Advanced
Dentistry & Clinical
Skills Centre.
The Advanced Dentistry & Clinical Skills Centre is a collaboration between Clyde Munro and the World's largest manufacturer of professional dental products and technologies, Dentsply Sirona. The Centre is at the heart of the educational philosophy that is so important to both brands.
As a multi-use facility, the centre provides a base for extensive clinical and technical courses and educational programmes. The centre is a useable asset for all teams working within the Clyde Munro Dental Group, providing course and training opportunities relevant to both clinical and non-clinical staff.
Clinical Simulation Room.
Our clinical simulation room supports training across all dental disciplines including general restorative, periodontology, implant dentistry, endodontics, orthodontics and oral surgery. It features eight delegate phantom heads, with a further demonstrator station. Dental operating microscopes with live video feeds are fitted at each station ensuring fully immersive sessions. The delivery of hands-on courses is supported by access to onsite CAD/CAM equipment and imaging technologies. The trainer can also broadcast from the clinical simulation room into the neighbouring education and theory room or externally to online delegates.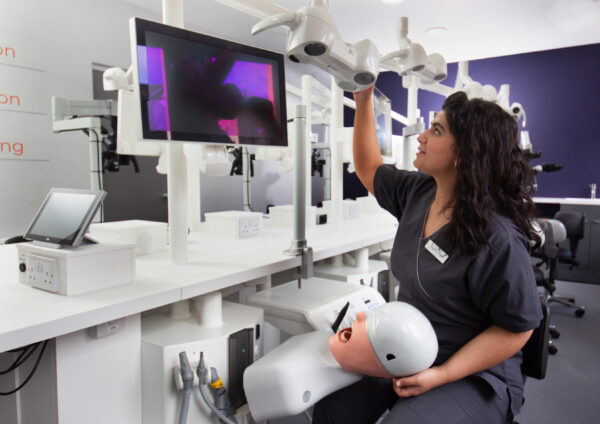 The Surgery.
A state-of-the-art dental surgery allows the demonstration of a full range of clinical procedures. This space has a viewing gallery enabling attendees to watch procedures being carried out in real time. This space is also equipped with both a live video and dental operating microscope feeds allowing delegates both on site and further afield to experience the surgeon's eye view of the procedure. The immersion in process offered by this technology is second to none with the addition of bi-directional audio, enabling the audience and demonstrator to communicate throughout the procedure ensuring a stimulating teaching experience. Associated with the surgery is a cutting-edge CBCT machine, offering the capability of assessing and planning interventions using the latest imaging software.
Education & Theory Room.
Flexible classroom-based learning is provided for up to 16 people in this light and airy space. The education and theory room has fully integrated audio-visual capabilities allowing sharing of the live action from the surgery or even beaming in or out live teaching sessions. Also held within this space are Dentsply Sirona's latest offerings for digital workflow including the Primescan scanner and Cere milling unit.
External Hire
The spaces within the Advanced Dentistry & Clinical Skills Centre are available for external hire. If trainers or education providers wish to explore possibilities of using this space, then please get in touch:
Upcoming Events
Browse our range of upcoming training events and courses relevant to clinical and non-clinical staff and book your space.